Did you know the average family uses approximately 40 gallons of water per day from showering? The

Environmental Protection Agency

states that the average American family could save up to 2,700 gallons of water each year by making the transition to certified low-flow showerheads.
Low-flow showerheads are designed to use less water. They use a smaller volume of water by either using a high-speed oscillation stream or by aerating the water stream.
Choosing a water-saving showerhead is good for the environment and your budget! If you are using less water, you will save money on your water bill and save on energy used to heat the water.
A good low-flow showerhead will use less water while still emitting a strong stream. It should use less than 2 gallons of water per minute (GPM), as opposed to standard showerheads that produce up to 2.5 gallons of water per minute (GPM).
Factors to Consider When Choosing the Best Water-Saving Shower Head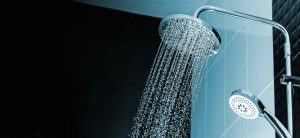 When it comes to the type of showerhead, you can choose between a fixed, handheld, or combination shower head. Fixed shower heads are mounted to the wall, while handheld showerheads have a hose and can be unhooked from the wall. Handheld showerheads are great for bathing children or pets.
You will also want to consider the kind of material your shower head is made of. Many shower heads have metal and plastic parts. Showerheads made from solid brass or stainless steel are more durable and combat corrosion. It is best to choose a water-saving showerhead that has a stainless steel or brass connector because these materials are more long-lasting.
The two types of low-flow showerheads that you can choose from are aerating and laminar-flow. Aerating showerheads conserve water by combining air and water to create a sensation of stronger water pressure. Laminar-flow showerheads emit less mist and steam by using individual water streams.
Showerheads come in a variety of finishes so you can choose one that matches the aesthetic of the rest of your bathroom fixtures. Some of the most common finishes include chrome, matte black, bronze, brushed nickel, and polished brass.
Check out our list of the top 10 water-saving showerheads you can use to save water and money.

This is another great handheld shower head that has a 1.6 GPM and saves water up to 30%. It is perfect for anyone who prefers a chrome finish. It features micro nozzle technology with dense outlet holes that increase the speed and pressure of the water.
This showerhead is great for anyone looking for a good handheld, water-saving showerhead. It has a 1.8 GPM water flow restrictor and saves water up to 35%. Its laser boring technology increases water pressure by 200%. It has a durable stainless steel shower hose and features three spray modes. The stone balls help purify the water which leaves you with soft and smooth skin.

Take your shower to the next level with this handheld LED shower head that changes color while saving water! It has a 1.6 GPM and saves water up to 30%. It also features micro nozzle technology that increases your water pressure.
If you prefer a simpler look, this chrome finish, round showerhead may be the one for you. It has a non-removable flow compensator and features massage settings. It has a 1.5 GPM to help you save water every time you shower.
This showerhead is great if you are going for a more elegant and traditional style. It is handheld and comes in the color "polished chrome." It has a 1.5 GPM and features a self-cleaning design that requires minimal maintenance.
If a square frame shower head is more your speed, this fixed shower head with a 1.5 GPM is a great option. It has an adjustable showerhead and features high-performance turbine engines that deliver a powerful spray while still conserving water. It has a brushed nickel finish and is corrosion resistant.

You will love this next shower head if you prefer a sleek, matte-black look. Made of stainless steel, this showerhead has a pinhole nozzle designed to deliver a high-pressure shower. Its flow rate is 1.5 GPM and it comes with two easy-to-replace steel filters.

This simple, chrome finish shower head has a flow rate of 2 GPM. It features four spray settings including a pulsating massage setting. You'll save water with its advanced optiflow technology and enjoy an easy installation process.

Save water and enjoy the ultimate rainfall experience with this luxurious water-saving showerhead. It's made of stainless steel with a chrome finish and has a flow rate of 1.8 GPM. It has a swivel ball connector so you can set it to any angle you like.

This high-pressure shower head with a 1.8 GPM flow restrictor has self-cleaning nozzles made from mineral-resistant silicone. The nozzles are designed to jet water flow. You get a water-saving flow from a shower head that is lightweight, long-lasting, and easy to install.
Start Saving with Low-Flow Shower Heads
Water-saving showerheads come in a variety of types, but they all feature a low flow rate that will help your family save water, energy, and money. Making the switch from traditional showerheads to water-saving showerheads can help you and your family be more environmentally friendly.
Our list of water-saving showerheads will help you start saving today!
NES is a participant in the Amazon Services LLC Associates Program and may earn a small commission from products you purchase.