Jacksonville Apartment Water Submetering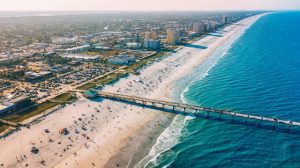 Jacksonville, Florida, is experiencing substantial growth, leading to the construction of numerous multifamily properties. Efficient utility management is essential in this expanding market, and submetering provides the perfect solution. NES is at the forefront of the submetering industry in Jacksonville, offering numerous benefits to both property owners and residents. This article will discuss the importance of submetering in Jacksonville, the advantages it brings, and the impact NES has on the community.
The Significance of Submetering for Multifamily Properties in Jacksonville
Submetering involves installing individual meters for each unit in a multifamily property, enabling property owners and managers to bill residents accurately for their specific utility consumption. This method promotes fair billing practices and encourages residents to be more mindful of their usage. Given Jacksonville's rapidly growing real estate market and increasing population, implementing submetering is crucial for effective utility management.
Navigating Jacksonville Submetering Regulations: Compliance and Efficiency
Submetering in Jacksonville is subject to Florida's Public Service Commission (PSC) rules. Important regulations include:
Adherence to Technical Standards: Submetering systems must comply with specific technical standards and be installed by certified professionals.

Ensuring Billing Accuracy: Property owners and managers must provide accurate billing, with consumption data available for residents to review.

Emphasizing Transparency: Clear, concise, and timely bills must be provided to residents, along with information on dispute resolution processes.
Staying up-to-date with the latest regulations is essential, and NES is dedicated to helping property owners and managers in Jacksonville comply with these rules. Before you submeter, check with NES.
Benefits of Implementing Submetering in Jacksonville Apartments
a. Fair Utility Billing: Submetering ensures residents are billed based on their actual consumption, fostering fairness and minimizing disputes.
b. Promoting Utility Conservation: Submetering inspires residents to embrace efficient habits, decreasing overall utility usage and waste.
c. Lower Operating Costs: Property owners and managers can anticipate reduced operating costs as residents take responsibility for their utility consumption.
d. Increasing Property Value: The implementation of submetering can enhance a property's worth, making it more attractive to potential buyers and investors.
NES: Leading the Way in Jacksonville Apartment Submetering
As a top submetering solutions provider, NES is committed to supporting Jacksonville's multifamily property owners and managers in optimizing utility management. NES offers a variety of services, including:
a. Comprehensive System Design and Installation: NES ensures a smooth submetering implementation, from system design to installation.
b. Reliable Billing Services: NES delivers accurate, trustworthy, and secure billing services, managing all aspects of resident billing, and saving time and effort for property owners and managers.
c. Ongoing Maintenance and Support: NES maintains submetering systems in top condition with routine maintenance and prompt support for any issues.
d. Adherence to Compliance and Reporting: NES stays informed about industry regulations and provides detailed reporting to help property owners and managers maintain compliance.
Get a FREE quote and learn how much you could save by Submetering.
We will contact you within 1 business day via your preferred method of communication.